Frequently asked questions
Getting Started
How do I register?
---
You can sign up using Facebook, Google or Apple ID and authorize our app to use your basic information or you can sign up with your email where you will be asked to confirm the verification code sent to your registered email address.
---
What can I do with the Eat Me App?
---
Eat Me is dedicated to giving you the best platform to find, discover, filter, sort and browse dishes easily based on location and your preference so that you can dine-in with ease. Eat Me App also allows you to earn cash points by uploading photos, reviewing dishes. restaurants and finding missing dishes from restaurants where you can redeem those collected points at any of our partnered restaurants.
---
Why did I get a verification code?
---
If you have received a verification code, that means you have tried registering with us using your email address. The verification code will be a short numeric code that's sent to you, which you use to complete a task like a password recovery. It's an added security step that ensures only you gain entry.
---
What are the sign-up options?
---
Sign up is not only limited for your email, but you can also now use your Google account, Facebook, and your apple account to register with us.
---
---
Personalizing Your App
My Account Settings
---
Tap on the hamburger menu and go to your account. Here you can, 1. Add a Photo of yourself 2. See how many cash points you have in total 3. Change your name 4. Set your diet type 5. Update your contact number 6. View your email address 7. Log out from your account
---
Points Profile
---
Points profile will help you to discover 1. Your total cash points 2. Chose the restaurant to redeem you cash points 3. Redeem Points 4. Eat Me Partnered Restaurants 5.Redemption History 6. Points Earned History
---
Favorite Dishes
---
We all have that favorite Monday morning coffee, Fried Rice Friday, cheat day triple beef burger and the usual stress-relieving cupcake. Eat me will always suggest your favorite dishes when you're craving something.
You can update your favorite dishes by tapping on the hamburger menu and tap on favorites to add your top three favorite dishes by searching them.
---
Saved Dishes
---
Want to save a dish that you are planning to have on another day or love a dish that you already had in a restaurant? Save that dish to visit the place and have it by following the steps below. 1. Search the Restaurant that serves the dish you wish to save 2. Tap on " Save it" You can later view your favorite dish by tapping on the hamburger menu , saved dishes. You can have the option of removing your saved dishes according to your preference by simply swiping the image left.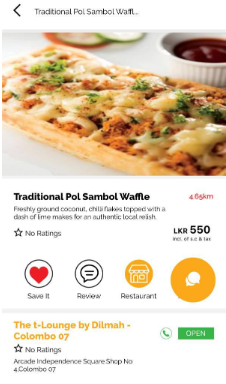 ---
Contact Us
---
You can now contact us on 076661699, email us on [email protected] or chat with us by tapping the chat button on your screen.
---
Invite Friends
---
Want to share this great app where you can earn points by every possible way when you already do it on social media for nothing?

Simply tap on the hamburger menu , invite friends by sending the link via any social media platform, messages or email them and help them dine-in and earn points.
---
Terms and Conditions - Web & App
---
You can simply visit our website www.eatmeglobal.com or tap on the hamburger menu and check on our terms and conditions.
---
Rate the App
---
If you enjoy using the Eat Me App, would you mind taking a moment to rate it and help others also know what you think of this app? It won't even take a minute to support us to keep our spirits up! Play Store - http://bit.ly/36ZX5ys App Store - https://apple.co/2Rb829V
---
---
Using the App
---